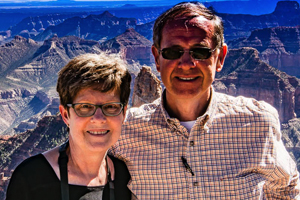 I am an eight-year survivor of stage IV non-small cell lung cancer. I was diagnosed in January 2008. My entire family has truly been instrumental in my life for support since the diagnosis. However, my husband, Mike, has truly been a blessing to me throughout this journey. He is never wavering in his faith in God and that we are in His hands to get us through everyday, the good ones and the not-so-good ones. He has literally driven me to every doctor and treatment appointment from Denton to Houston, from Houston to Dallas. He has made medication schedule charts on the computer to remind me of medication doses. He has held my hand and wiped away tears many times. My mother calls him a jewel and I know he has laid up many treasures in heaven. I thank God for him everyday.
I think one of my biggest challenges to face since my diagnosis has been the fact and the realization that I have lung cancer! I never was a smoker so the diagnosis came as a complete surprise. At the time, several of my friends had been diagnosed with breast cancer. That seemed to me to be a much more "noble" cancer for a woman to have. I hated the fact that whenever I told people I had lung cancer, that they thought somehow it must have been my fault.
Initially, my treatments consisted of the usual chemotherapy regimen with Avastin. However, I was one of the unfortunate ones who are allergic to Avastin. After I stopped breathing and after the quick actions of some very skilled nurses, I was never allowed to have that again.  I have received several targeted therapy medications, one of which worked quite well for almost five years. I have also been on several clinical trials, one in Denton, two in Houston, and currently, one in Dallas. I have been on this trial for just over one year with very good results so far. I love participating in clinical trials. The data and information the researchers, drug makers, doctors, and nurses receive from my participation can only help someone else in the future. Hopefully, it will help me too, by receiving the newest and most cutting edge therapies that would not be available to me otherwise.
I have retained hope throughout my journey because of the incredible support system my family has been. I also believe that Jesus, my Lord and Savior, has not only been my Lifeforce throughout my entire life but particularly through this journey of living with lung cancer. I give Him all the glory for my survival of over eight years. If I gave any advice to new lung cancer patients, it would be to never give up. You are so much stronger than you could ever imagine! New medical breakthroughs in targeted therapies and immunotherapies are being developed everyday. One day, and I believe it will be sooner than later, a cure will be found!
A year ago I probably would not have had the courage to share my story. However, I became involved with Free to Breathe during this last year. Dr. Joan Schiller, founder of this wonderful organization, encouraged me to get involved with Free to Breathe and it has given me a new outlook about what it means to be a survivor. As a result, my husband and I formed a team for the annual Dallas/Fort Worth Run/Walk this past May 15th. Team Lifeforce consisted of family members and friends who came out to support me and Free to Breathe. Team Lifeforce raised $1,750! It was truly an uplifting experience, and I can't wait to participate again next year!
Cancer Hope Network is proud to partner with Free to Breathe to provide support for lung cancer patients and their caregivers. Each month, we feature a lung cancer survivor's story. For more information about Free to Breathe, or to gain access to additional lung cancer survival resources, please visit http://www.freetobreathe.org/.