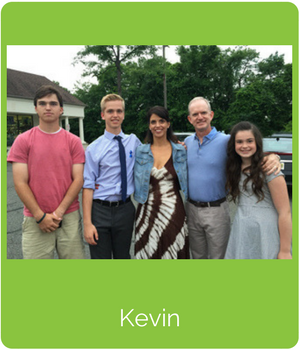 I was 19 years old and enjoying the first semester of my sophomore year of college. With an attitude typical of a college sophomore, I was ignoring the pain that was becoming increasingly frequent. I simply dismissed it and went on. Things changed during Christmas break and after midnight Mass on Christmas Eve, the pain was so bad I couldn't sleep.
I went to see my doctor. My testicle was visibly swollen, and the doctor diagnosed it as an infection for which he prescribed antibiotics. Ten days later, the swelling had not gone down; an ultrasound was ordered. As I prepared to return to school for the spring term, I received a call from my doctor. My doctor told me that I had a tumor and to "check into the hospital tomorrow. You're having surgery." During surgery, my testicle was removed; the tumor was malignant. After surgery, I had to undergo radiation treatments which left me extremely weak and still in intense pain.
The stabbing pain in my abdomen was so bad that I went to the emergency room. I was admitted to the hospital on a Friday afternoon and it was discovered that there was a mass in my abdomen that was pressing on my urethra. I began chemotherapy on Sunday.
When I think about this weekend, I remember everything moving with great speed. Events were moving so quickly that I didn't have time to think. Given time, I might have considered the long-term consequences of the chemotherapy. I might have thought of someday becoming a father and banked some of my sperm "just in case." Instead I started the first of four demanding and aggressive rounds of chemotherapy.
The side effects of the treatment were devastating. My family and I were mentally and emotionally drained. I was down to 110 pounds, had lost my hair and eyebrows, my blood counts were down; I was hospitalized. My family and I were demoralized. "If you look sick, you feel sick, and people react to the way you look."
At this point, my oncologist suggested that our family contact Cancer Hope Network. A Cancer Hope Network Support Volunteer came to the hospital and spent time with me and my family. When I was at my lowest point, I had tangible proof of survivorship sitting at my bedside.
I finished my chemotherapy treatments and subsequent surgery determined that the mass in my abdomen had been reduced to scar tissue. The support from Cancer the support from Cancer Hope Network had such a profound effect on my recovery that I told my father I wanted to be able to give that same help to others. The day after my five-year checkup showed me to be cancer-free, I called Cancer Hope Network and asked to be trained as a volunteer.
I finished school and started to date Melissa. Melissa and I had known each other slightly since high school, but a cousin of mine saw a future for us. As we got to know each other, I talked about my cancer. We both wanted to have children, but did not know if this would be possible. In the end our devotion to each other diminished our fears, and we decided to take a "leap of faith." We married and in January and now have three children together.
In the years since I was trained as a Cancer Hope Network Support Volunteer, I continue to "give back" to many cancer patients the same kind of hope I received during the darkest time of my life.
UPDATE: Catch up on the latest from Kevin, including pics of his and Melissa's children, when you read "Not consumed by small things: Life as a survivor."