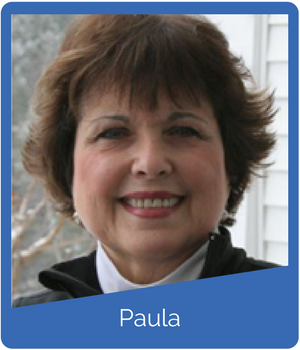 I was 23 years old when I was diagnosed with "Ulcerative Colitis." This is an autoimmune disease that affects the large intestine and rectum. There is no cure for this disease and for some, managing the disease can be very difficult. I was hospitalized 3 times during my middle to late 20's. The disease would flare up causing major disruption in my life. Having my (then young) children see their mother sick often was very depressing for me. In fact on one hospital stay, I missed my sister's wedding. Needless to say the whole family was very saddened. My father came to the hospital the next day and said, "Paula, no one goes through life without some sort of 'monkey on their back.' Everyone has something."
The doctors talked to me about having my colon removed which was the only way of not having the disease anymore. The year was 1974 and I was 28 yrs old, my thoughts…….are you kidding me?? However, I never knew when that gauntlet would fall next. Not being able to prevent the attacks made me very angry and I felt out of control. I channeled that anger and was determined to get control of my health and get my life back and be well again. I started to accomplish this by quitting smoking, changing my food choices and creating a healthier diet for myself and my family. I also started to run on a regular basis and found that for me this was a wonderful stress release.
During that time the drive to stay healthy and well led me to many other health related avenues and for the next 21 years, the disease never returned. It was a blessing. However, because I had been healthy for so long, I lost sight of what my doctor had said about the disease never being cured. I fooled myself into thinking that "I conquered that monkey on my back." I was not fully aware that Ulcerative Colitis predisposes a person to a 50% chance of getting colon cancer. I had the runner's mentality of super woman and with my growing retail and mail order running shoe businesses taking up so much of my time, that much-needed colonoscopy was put on the back burner.
It's now January 24, 1998. I am watching the Today Show while working out on my elliptical machine. The news program is talking about the passing of Jay Monahan, Katie Couric's husband from colon cancer. I am shocked and very saddened to hear this. While trying to digest what I'm listening to…that little voice in the back of my brain says "Paula you really need to get that colonoscopy". How ironic, four weeks later, I noticed blood in my stool.
On March 22nd I went in for that long-overdue scoping. On March 26, my doctor called to say that I had Colon Cancer. Fear, unlike anything I had ever experienced was my first response and my entire body went numb. So began a new chapter in my life and a long journey towards saving that life. My husband and I immediately used the internet and did some research. As was recommended to me back in 1974, removing the colon would now be recommended again because of the high risk of the cancer coming back again in another part of the colon. I needed to learn a lot more and started to research everything I could. I needed to determine exactly what surgical procedure would give me the best chances. After much discussion and deliberation, my surgeon asked me if I was a gambler; that put everything into perspective for me. After working so hard for 21 years to stay healthy and well, there was no way I would play Russian roulette with my life. I then made one of the hardest and biggest decisions of my life.
The total removal of my colon took place at Mt. Sinai Hospital in New York on May 8th. After the removal of my colon and 27 lymph nodes, they found 3 nodes with cancer. The diagnosis was Stage 3 Colon Cancer. The protocol of treatment would be a reconstruction of a new internal colon, 9 months with an external ileostomy bag, six months of chemotherapy and then three months after chemo back into the hospital to reconnect the new internal colon.
My day to day life has it challenges (as we all have) and has changed me in many ways. However, my appreciation for life is boundless. In May of this year, I will be 14 years cancer free. A year after my chemo, I joined Cancer Hope Network. As a cancer survivor and volunteer I speak with other newly diagnosed colon cancer patients to help them get through the tough journey ahead. I continue to live my healthy lifestyle, but my running days are over. Walking, hiking, yoga and my trusty elliptical machine help keep my lungs, heart and limbs in good shape and I am blessed.