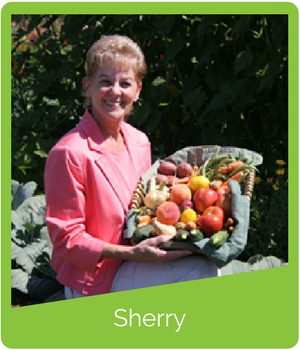 My name is Sherry and I have been conquering pancreatic cancer for more than a decade. I was diagnosed in Feb. 2007. I had the Whipple surgery in March of 2007 and did radiation and a chemo drug called 5FU for 5 ½ weeks. I then completed four months more of chemotherapy with Gemcitabine. At that point my oncologist said there was nothing else they could do for me. When I was diagnosed with pancreatic cancer I weighed 128 lbs, and when I was done with chemo I weighed 92 lbs. My complexion was an ash color. I had no appetite and very little energy. But still, I was determined to beat this.
This set my husband Bron and I on a path of research to see what could be done to help me survive. Our research included visiting with other cancer survivors, books, articles, and internet sites which led me to make changes in my eating habits. The biggest improvement was rebuilding my immune system. To accomplish this, I found research which indicated that having generous amounts of poly-unsaturated fatty acids (known as essential fatty acids or Omega 3's) in the form of flaxseed can aid the body in the proper absorption of oxygen and other nutrients, along with acting as a powerful anti-oxidant. I started consuming more raw vegetables and fruits, nuts, seeds, and whole grains. I began limiting the consumption of toxic fats, processed foods, toxic chemicals from pesticides, preservatives and artificial flavorings, especially eliminating refined sugars.
I have been a Cancer Hope Network volunteer since 2008. When I talk to pancreatic cancer matches I share with them how I made changes by improving my eating habits, getting some exercise and trying to reduce stress. I began to support people with cancer before, during, and after their treatments to help give them hope for a more healthful life. I believe we are in partnership with our body and if we are good to our body, then our body will be good to us.