Iris - Non-Hodgkin's Lymphoma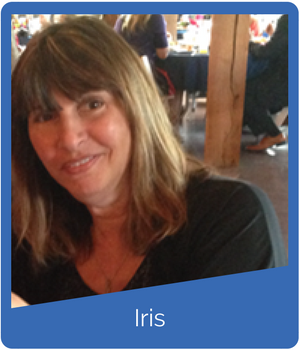 "On April 20, 2001 my life changed forever."
I had not been feeling well and for 8 months was walking around tired, my ankles were swollen and I was totally exhausted from the time I woke up in the morning and throughout the entire day. After going to numerous doctors and no one finding out what was causing this, one of the doctors finally scheduled me for a CT-scan of my upper body region. I waited for the results and received a message on my answering machine a few hours later that I have another scan of my lower body and possibly a biopsy. The word biopsy rang so loud in my head. I went into denial mode.
After the scan, I was diagnosed with Non-Hodgkin's Lymphoma. I had to then go for a biopsy of a lymph node in my groin and a bone marrow biopsy (not a very pleasant test, the bone marrow biopsy.) So here I was…overwhelmed with this diagnosis of cancer-- Non-Hodgkin's Lymphoma stage 3 B-cell slow growing - are the exact words that the oncologist said to me. I still have the piece of paper they wrote it down on.
All I heard in my head was "You have six months to live, you are going to die." (This was not at all what the oncologist said to me). He said "You will be fine. This is a curable cancer." I still had a lot of things to do in my life. I wasn't anywhere near ready to throw in the towel. My children were teenagers. I had to be there for them. I wanted to see them grow up, be at their wedding. See grandchildren. All the things other people get to do.
I had to then learn to put me first for six months of chemo treatment. (I hate needles by the way). I had to accept help from others who offered. After 3 months of chemotherapy treatment, I was in partial remission. That proved the treatment was killing the tumors (boy do I hate that word).
I did the 6 months of chemo treatment which was the protocol, taking shots in between to try and help raise my red and white blood cell count due to the chemo killing all the cells. I had two more bone marrow biopsies, and numerous CT and PET scans.
On October 2001, my son's birthday, I was declared in total remission. The protocol for the next 5 years was monitoring with CT and PET scans. That was fine by me. I realized how lucky I was. But why me? Why did I get sick? Why did I survive?
I wanted to give back. I wanted to help others and share what I went through so people would know they never have to go through a cancer diagnosis alone and that you can live with cancer. I started doing volunteer work with Cancer Hope Network. I have met so many amazing people on the other end of the phone, who have given me inspiration as I give them strength and hope. Just to look to someone who cares, who went through it and survived this is so powerful. I befriended one person in particular and even took a trip to Arizona to meet with her as she started her regimen of chemo. I just wanted her to know, that at Cancer Hope Network, we care very much about helping the person who is going through this. When I talk with my contact and we have finished our conversation, I know how lucky I am. Having them hear my story of survival, and hearing them say "wow, I feel so much better now. You have helped me just by listening to me" gives me strength.
I always make sure I tell my loved ones that I love them. I never procrastinate. If I want to take a trip (within means, of course) I do. If I want to visit family or friends I do. I try never to waste any time. I consider myself very lucky that this did happen to me because I know how it feels and I can relate to others who are going through it and reassure them that they have what it takes to get through it. I took a trip to Israel which I may not have done if I was never diagnosed. I also now have two beautiful rescue dogs. They really keep me grounded. As much as I help and love them, they give me so much love back. I surround myself with positive always, no time for negative. I try to be there for family and friends in any way that I can. I appreciate my kids and my family. I try not to take anything for granted. I want to make a difference.
So…that's my why me.
Click HERE to find your own Support Volunteer today.