Phyllis - Bladder Cancer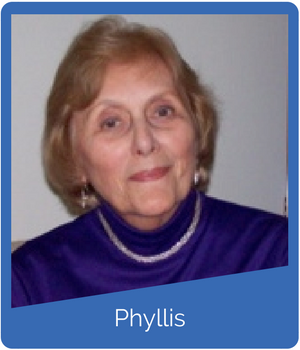 I was an active individual in 1999, but my arthritis was becoming worse and I often complained of pain at the end of my spine. A routine bone scan showed nothing serious; however, a shadow was detected on my bladder. Further testing revealed an aggressive high-grade invasive transitional cell carcinoma attached to the inside wall of my bladder. I was concerned that treatment would include a surgery that would remove my bladder and give me a urostomy pouch. At this time, I began talking with men and women around the country who had undergone this type of surgery; they gave me tremendous hope and inspiration. After hearing others' stories about the surgery, I decided that a urostomy pouch was certainly 'no big deal' for a seventy-plus year old.
The surgery went well and a month later I began chemotherapy. Sometimes getting through the chemo seemed insurmountable to me, but with the support of my husband, son, family, friends, my Pastor and church members, I got through it. With so many helping, I could not possibly give up! After four months of treatments, I was beginning to see some light at the end of the tunnel. I started to think about what I should and could do to show some appreciation for all the support I was given. Something I had always wanted to do came to mind – I joined our church choir. I started attending Bible study, and then began knitting prayer shawls for those in need of prayer and comfort. I began playing golf again – it was great therapy! Another important therapy for me was playing the piano, and my family's gift of a Yamaha Clavinova was great motivation to get my life back together. These and many other activities and interests still keep me going strong at 89 years of age. But being able to offer hope and encouragement to others with a similar cancer diagnosis is one of the most rewarding aspects of my recovery. It is amazing how much good it does to just listen and empathize. Being a volunteer with Cancer Hope Network is one of the ways I try to do my part and hopefully earn my stay on earth!
I have enjoyed a good quality of life these many years. I am deeply grateful for the loyalty, compassion and support I have experienced, and the hope that was passed on to me by many cancer survivors. I plan to remain active as long as there is life in me. As Mother Teresa prayed, "God give me work till my life shall end, and life till my work is done."
Click HERE to find your own Support Volunteer today.