News & Events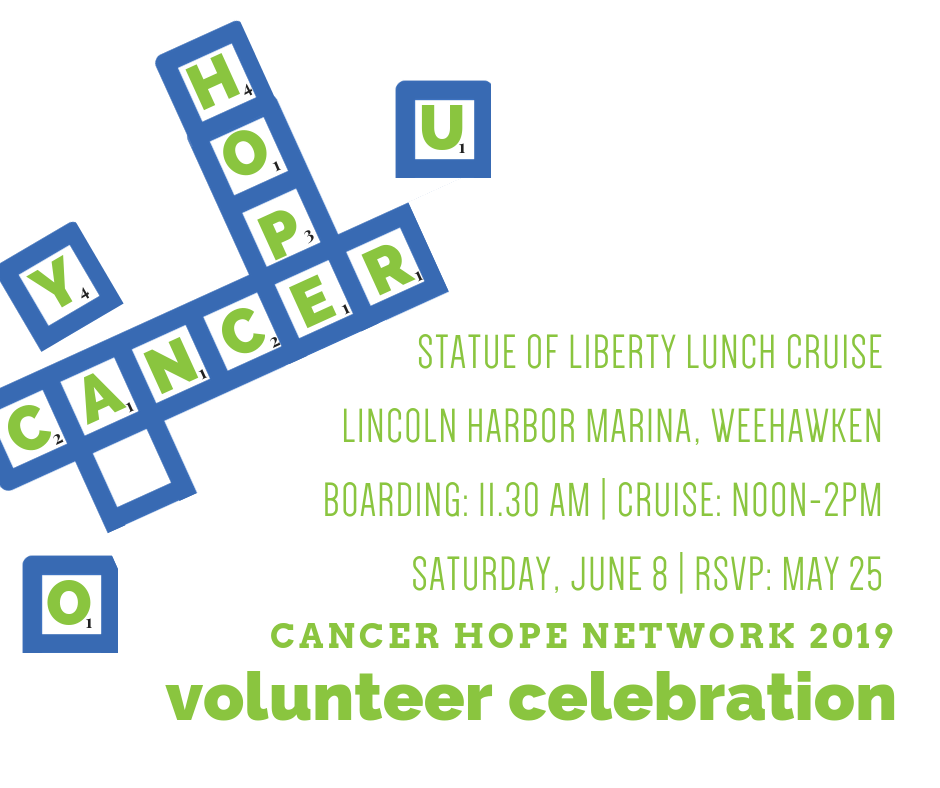 You're the answer to the questions. A piece in the puzzle of pain. The winning hand. A triple word score.in life's grim games.
On the phone and in person, with grace, care and good humor, you help cancer patients and caregivers find hope.
Please join us to celebrate the most important part of the Cancer Hope Network team – YOU!
You and your guest will enjoy lunch, mingle with other volunteer survivors as we cruise the Hudson and yes, play some games!
The event will be held Saturday, June 8th at Spirit Cruises (Lincoln Harbor Marina, 1500 Harbor Blvd, Weehawken, NJ).
Please respond by May 25. We look forward to celebrating you!
**PARKING**
• The Spirit of New Jersey is located at Lincoln Harbor Marina 1500 Harbor Blvd, Weehawken, NJ 07086.
• Guests will have access to the Sheraton Lot located at: 500 Harbor Blvd (at the very end of 19th Street). Upon entering the hotel lot guests will receive a parking ticket from the booth attendant. Guests who park here will need their Boarding pass, to be used as a parking voucher to exit the garage free of charge.
• To exit free of charge you MUST VALIDATE YOUR CRUISE BOARDING PASS AND PARKING TICKET at the ProPark Management Office, behind the "Shops at Lincoln Harbor" Address: 1200 Harbor Boulevard, Weehawken NJ (directly across the street from the pier).
• Please note there is additional Paid-Parking located directly across the street from the marina. You are welcome to park in this lot, but guests would be charged and parking would not be validated.